Creating Straight, Beautiful Smiles for Clinton, MD and Beyond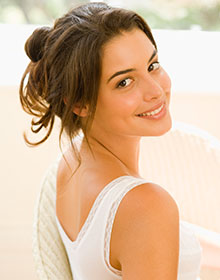 Do you wish you had a straighter smile? Our Clinton dental office has two excellent options for patients who need braces: Fastbraces and Invisalign. During a special consultation, Dr. Williams will help you assess your needs before recommending a specific option. For patients who are primarily interested in cosmetic changes, Invisalign may be exactly what you need. Meanwhile, patients with more advanced needs may want to choose Fastbraces over Invisalign.
Fastbraces
Traditional braces move your teeth and your tooth roots in two separate phases. But Fastbraces uses special brackets to complete both phases of care simultaneously. As a result, patients can often complete their treatment anywhere between three months and one year. What's more, Fastbraces can be used by adults as well as teenagers. If you've always wanted a straighter smile but thought you were too old for treatment, Fastbraces can help you achieve your goal.
Invisalign
For patients who want a straighter smile without wearing traditional braces, Invisalign is an excellent alternative. This system uses clear, custom-made trays instead of brackets and wires to move teeth into their ideal position. What's more, you can take your trays out for meals and for brushing and flossing. This allows you to straighten your smile while still enjoying all your favorite foods. But not every patient is a good candidate for Invisalign. Talk to Dr. Williams if you're interested in learning more about this cosmetic service.
Do you want to schedule an appointment with Dr. Tongela Williams? Call Beautiful Smiles at (301) 868-8545 to speak with one of our team members. We're happy to serve patients from Clinton, MD and all surrounding communities.