General Dentistry from Beautiful Smiles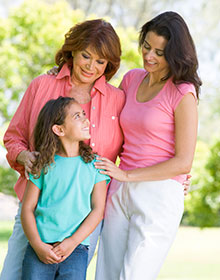 Treating common oral health problems is an important component of general dental care, but so is prevention. Through regular cleanings and exams, Dr. Williams want to help you prevent common problems, like tooth decay and gum disease, from forming in the first place. We have additional services to help you protect your smile or treat common issues, like teeth grinding. We're also happy to provide patients in and around Clinton, MD with emergency dental care.
Our general dental services include:
Dental Cleanings and Exams
To enjoy good oral health and wellbeing, we recommend visiting Dr. Williams twice a year for routine cleanings and exams. During these regular visits, a hygienist will clean hard-to-reach areas of your smile while Dr. Williams will look for signs of the most common oral health problems. If we see anything requiring treatment, we can talk to you about your options. Our goal isn't to make any decisions for you but to provide you with the information you need to make an informed choice about your own care.
Dental Sealants
Every smile is vulnerable to decay, and this is especially true of young smiles. To provide patients with advanced protection from cavities, Dr. Williams offers dental sealants. Dental sealants are applied to the chewing surfaces of teeth, creating a thin plastic barrier shielding them from decay-causing bacteria. Applying sealants only takes a few minutes, but they can provide effective protection for as long as 10 years. If you have questions about dental sealants, let Dr. Williams talk to you about the benefits they provide.
Oral Cancer Screenings
Oral cancer is a serious disease that claims approximately one life every hour, with thousands of new diagnoses occurring every year. What's more, many of these diagnoses are made when the disease is already well advanced. As a result, making a full recovery is much more unlikely. At Beautiful Smiles, we strive to diagnose and treat oral cancer as early as possible. That's why we offer oral cancer screenings. Through an oral cancer screening, we can monitor for signs of the disease and help you with treatment if we find anything.
Periodontal Therapy
Periodontal disease, also known as gum disease, is one of the most common oral health problems. According to some estimates, half of all Americans over 30 have a mild or advanced form of it. Common signs include gums that bleed when you brush, frequent bad breath, a receding gum line, and loose teeth. Gum disease has also been linked with health problems ranging from heart disease, stroke, and Alzheimer's to diabetes and pre-term delivery in pregnant women. At Beautiful Smiles, we offer comfortable care for gum disease with a soft tissue laser. Using a soft tissue laser allows for precise treatment that's also minimally invasive.
Nightguards and Athletic Mouthguards
A nightguard is a special oral appliance designed to help patients who struggle with teeth grinding. Patients who struggle with teeth grinding on a regular basis have a condition known as bruxism. The frequent grinding associated with bruxism can damage the chewing surfaces of teeth.  Bruxism can also increase your risk of TMJ dysfunction. A custom-made nightguard will protect the chewing surfaces of your teeth from unconscious grinding, preserving your smile and improving your health and wellbeing.
Our Clinton office is also happy to offer athletic mouthguards. An athletic mouthguard is an essential piece of equipment no matter what sport you play. During a visit to Beautiful Smiles, Dr. Williams can design a custom-made mouthguard for you, ensuring that your smile receives as much protection as possible while you're on the field, on the court, or on the ice.
Digital Imaging
To make the most accurate diagnosis possible we have to have a clear, complete picture of your smile; a visual exam will only tell us so much. But with a visual exam plus digital imaging, we can see parts of your smile it would be impossible to see otherwise. As a result, Dr. Williams can create a more complete diagnosis and a more precise treatment plan to help you address your needs.
Emergency Dental Care
Do you have an emergency dental need? Don't hesitate to give our Clinton office a call. We try very hard to meet urgent needs as quickly as possible. When you call, we'll talk to you about the nature of your emergency and offer tips for managing your situation until we can see you. We offer same-day care whenever possible.
Do you want to schedule an appointment with Dr. Tongela Williams? Call Beautiful Smiles at (301) 868-8545 to speak with one of our team members. We're happy to serve patients from Clinton, MD and all surrounding communities.